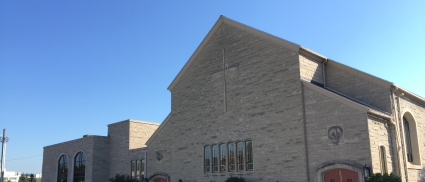 29 Grant Ave.
Endicott, NY 13760
(607) 748-1544
First Visit?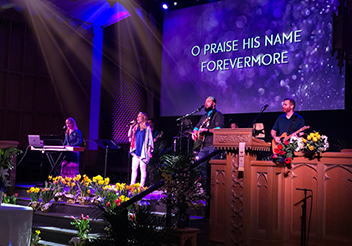 If you are making your first visit to us, we want you to be comfortable in knowing what to expect. Below are some commonly asked questions. If you have any other questions before coming to visit us, please don't hesitate to call at (607) 748-1544.
How do I get there?
FPC:E is located at 29 Grant Avenue, on the corner of Grant and Monroe streets in Endicott, NY. You can find detailed schedule information and directions here.
Where should I park?
Parking and entrances can be confusing. We have two main parking lots: one off Monroe St. and a second that you enter from Grant Ave.
Monroe Street
The Monroe St. lot is the larger lot, located on the corner of Monroe and McKinley. If you are arriving to the church from the highway, take a left at the first light (corner of Monroe and McKinley) and then take an immediate right into our parking lot. If you park here, you will be entering the church in the education wing. Enter the church through the glass door on your right as you come into the alley between our garage and the education building. Once you enter the building, go past the stairs and take a left. Follow that hallway down to our gathering area and someone can direct you to the sanctuary.
Grant Avenue
The Grant Ave. lot is located right beside our main entrance doors. If you are arriving to the church from the highway, take a left at the first light (corner of Monroe and McKinley), turn right onto Grant Avenue, go just past the church, and take a right into the parking lot. If you park here, follow the sidewalk back to the front of the building you passed and enter through the glass double doors. You will be entering the gathering area just outside of our sanctuary.
Where do my kids go?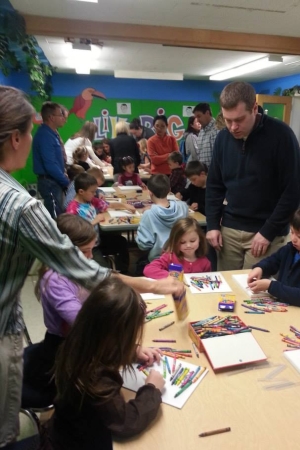 Check-In
Check-in for all children, birth-grade 5, begins at 9:15am.
The check-in station is in our gathering area located at the Grant St. entrance.
Birth-Preschool
Birth-preschool classes meet on the top level of our building, across the hall from each other.
After being checked in, these children can be dropped off in their classes.
Childcare is offered for birth-age 2 in our spacious nursery.
Preschool Ministry is aimed for 3 and 4-year-olds.
Kindergarten-5th Grade
Kindergarten-5th grade students go to the sanctuary after being checked in.
These children participate in the first 15 minutes of the worship service.
They are then dismissed with their leaders to participate in Children's Ministry.
Classes meet on the lowest level of our building.
To learn more about Children's Ministry, visit our Children's Ministry page.
Middle and High School
Middle and High School students will be participating in worship this fall.
They will have the option of sitting with their family or their youth leaders as they participate in the teaching and table conversations.
Safety
All of our caregivers and children's ministry leaders are background checked and work in teaching teams.
What is a Sunday service like?
Great question! We are in an exciting season of trying to figure out what times and types of services work best – not just for those who are already here at FPC:E, but also for those we are hoping will join us. Right now, we offer two services, and while the message is the same at both services, the styles are different.
The first service begins at 9:30am in the sanctuary. Our newly renovated sanctuary allows for greater flexibility. At times chairs are set up in rows, other times we meet around circular tables so that we can talk about the teaching, and sometimes it is a combination of chairs in rows and chairs around tables. The music style is best described as "contemporary." The worship team includes a wide variety of gifted vocalists and musicians who help us worship through song, prayer, scripture, and dwelling in God's presence.
Our second service begins at 11:10am. Right now we are meeting in the chapel, but we may have to move to the larger sanctuary soon! The music style is more mellow at this service. Acoustic guitar, violin, and vocalists form the core of this worship team. Flute, clarinet, banjo, sax, keyboard, and other instruments are woven in on different Sundays to create a moving experience and variety of music.
Both services are livestreamed through the website.
Getting to Know You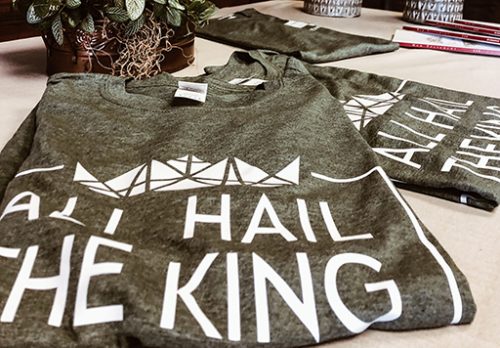 We know that guests who visit have different expectations. Some people want to see how friendly a congregation is, others want to slip in and out quietly. While we hope you will be warmly welcomed, there are some things you can take the initiative to do, if you wish. There is a welcome center in the gathering area, where you can ask questions, leave your contact information, and receive a t-shirt as a first-time visitor. There are "Connect Cards" in the sanctuary and chapel that you can fill out and return to the welcome center or place in the offering box at the entrance of the sanctuary. Our hope is that we might be able to connect with you after your visit, so that we can build real relationship!
Do you have questions or comments after your first visit with us? Please let us know!