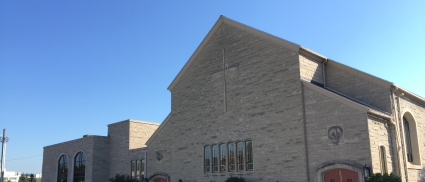 29 Grant Ave.
Endicott, NY 13760
(607) 748-1544
Meet Our Staff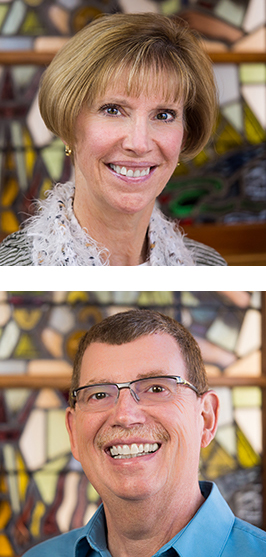 Rev. Janice and Rev. Dr. Timothy Devine
Co-Pastors
We began serving as Co-Pastors of First Presbyterian Church, Endicott, in January of 1998. This is our third pastorate in 37 years of ministry. In those years, we have learned to celebrate and bring to our shared ministry the passions and strengths that God has given us as individuals. We are privileged to serve within a community of faith that seeks to invite and encourage people on the journey of faith. We rejoice in God's invitation to be in relationship with people through Jesus Christ, his desire and plan to transform lives, and the presence and power of the Holy Spirit.
Our immediate family includes: our son Nathan and his wife, Katie, and our daughter Kristen, and her husband, Ben.
Nathan and Katie live in San Antonio, TX, where Nathan is an electrician and Katie is a math teacher. They are foster parents, loving and caring for vulnerable children.
Kristen and Ben live in the area and are involved in the life and ministry of FPC:E. Kristen is a nurse practitioner in our local Neonatal Intensive Care Unit (NICU), and Ben drives for a trucking company.
Over the years, we have been blessed to be able to share family life in much the same way that we share ministry. As a couple, we enjoy many different sports, activities, and travel.
As you therefore have received Christ Jesus the Lord, continue to live your lives in him, rooted and built up in him and established in the faith, just as you were taught, abounding in thanksgiving. Colossians 2:6-7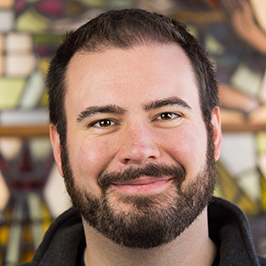 Nathan Jacobs
Director of Production, Technology, and Communication Ministries
Worship Team Leader
Nathan and his wife Jamie joined our staff as co-Worship Team Leaders in February of 2013 and Nathan became full-time staff in July of that same year, taking on the production, technology, and communications responsibilties for the church.
Nathan grew up locally and studied Computer Science and English at Binghamton University, earning a Bachelor of Arts in English and a Master of Arts in Teaching. Prior to joining our staff, he worked as an English teacher, and has been known to spend time with our Nursery School kids, playing guitar, singing, and helping our teachers.
Musically, Nathan stays busy as he and his wife head a music ministry small group on Wednesdays, lead worship on Sundays, and provide music for special events both in the church and the community.
The Lord is my strength and my shield; my heart trusted in Him, and I am helped; therefore my heart greatly rejoices, and with my song I will praise Him. Psalm 28:7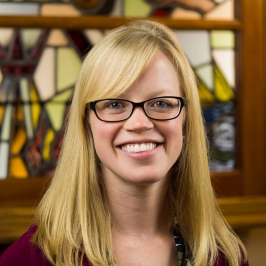 Jamie Jacobs
Worship Team Leader
Jamie Jacobs joined the staff of First Presbyterian Church: Endicott as Worship Team Leader for the 9:00 service in 2013, alongside her husband Nate. She developed a passion for singing to the Lord at an early age through various choirs, theater groups, and praise teams. Once at FPC:E, Jamie learned how to play keyboard for the Worship Team as well.
Jamie attended Binghamton University, graduating in 2006 with a bachelor's degree in English. Currently, Jamie also works as a partner of Riger Marketing Communications.
Jamie and Nate live with their little beagle Chloe in Conklin, NY.
Sharon Early
Coordinator/Coach for Connecting Ministries
Sharon, an engineer at heart, heard God calling her to a ministry position within this church. When her job was transferred out of state, she took time to study the ministry needs of this congregation and attend conferences. Through prayer, fasting, study and conversation, she was able to discern God leading her to call us as a congregation to take risks in discipleship and service. At the November 2004 Session meeting, the Elders gathered around Sharon, laid hands upon her and prayed for God's direction. Three months later, Session blessed Sharon's call to a part-time, non-paid staff position as Coordinator/Coach of Connecting Ministries.
What are connecting ministries? They are the ministries that connect people, make them feel like they belong, help them grow in faith, and give them the desire to serve within and beyond this congregation. Currently, Sharon's primary focus is the Small Group ministry. Get involved and experience how this ministry develops and grows.
Sharon feels blessed to be supported in this ministry by her husband Bryan and their three children. Using her gift of technical savvy, Sharon also sends out a pre-weekend update of what is happening in the life of FPC:E, notification when the monthly newsletter is posted, and time-sensitive communications during the week to those on the distribution list. If you would like to be included in these communications, send an e-mail to her with which lists you would like to be added to.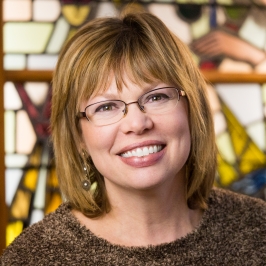 Ronne Sisco
Director of Education- Nursery School
Ronne Sisco has been a teacher of both Early Kindergarten and UPK and truly embraces the importance of collaborative efforts and positive communication. Ronne joined the Nursery School as Director of Education in August of 2013 and we look forward to continuing partnership with her and the adventures of this school year.
The Pre-School is nationally accredited and also in partnership with the Union Endicott School District as a site for Universal Pre-Kindergarten. Although non-sectarian, the Nursery School is a mission of the church as we seek to build bridges between nursery school families and this congregation.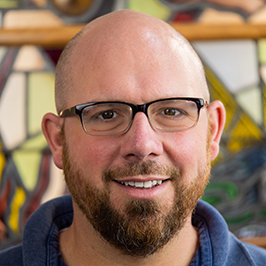 Derek Waddell
Director of Business- Nursery School
Bio Coming Soon.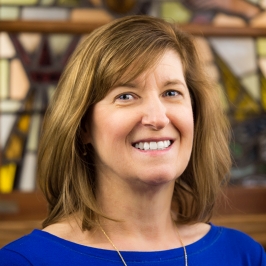 Sharon Baumann
Bookkeeper
There are many people that contribute to the daily operations of our church whose work is not highly visible and may go unnoticed by many, but their efforts are essential to the continuation of our church and nursery school activities. One of those fine folks is Sharon Baumann, our church bookkeeper. Her work on a weekly basis ensures the financial obligations of our church are attended to. Sharon is responsible for paying the bills for the church and nursery school, checking all invoices and reconciling bank statements, depositing our donations into the bank, paying staff of both the church and nursery school, preparing monthly reports and tax statements, and paying taxes, among other things. Her office sits at the top of the balcony that overlooks the gathering area at the back of the sanctuary and from there she gets to enjoy the activities of the nursery school students from time to time as they pass by her office window.
Sharon and her husband, Carl, are members of our church and attend with their son, Brad, and daughter, Lindsey (when she is home). Sharon was born and raised in Endicott and worked for IBM as a buyer before taking the position as bookkeeper at the church. Sharon is a graduate of R.I.T. with a Bachelor's degree in Business and Marketing.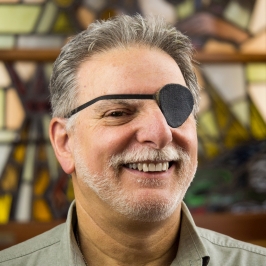 Lou Pasquale
Maintenance Supervisor
Lou began working at FPC:E in April of 2010. He works closely with the House Committee and Head of Staff as he manages the cleaning, maintenance, renovations, and security of our facilities. It is no small task to care for our large church building and grounds, the Monroe House, and two church manses on McKinley Ave. and Wheeler Place, all of which are aging facilities.
Lou's other aliases are Chef Pasquale and "The Pirate" to the children of the Nursery School! Many of us have feasted on meals prepared by Lou. His former work and ongoing passion is food preparation and catering. The Personnel Committee has worked out a process with Lou so that he can flex his full-time work schedule as Maintenance Supervisor in order to also serve the church by catering events.
Lou and his wife, Theresa, have two daughters, Tiffany(Dan) and Karissa(Steve), and three grandchildren.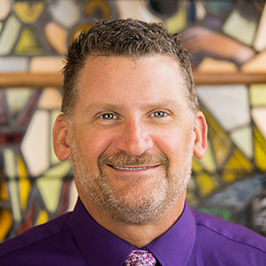 Eric Eiche
Sunday Sexton
Coming Soon