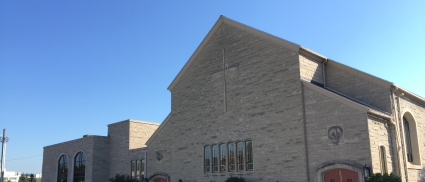 29 Grant Ave.
Endicott, NY 13760
(607) 748-1544
What We Believe
First Presbyterian Church is part of the Reformed tradition of the Christian faith and a member congregation of ECO: A Covenant Order of Evangelical Presbyterians. The Holy Scriptures are our highest authority, and the confessions of the church help us understand what Scripture leads us to believe and do. Both Scripture and the confessions are foundational in forming a clearly-articulated theology that is Christ-centered, Reformed, and evangelical.
We Believe in God's Glory
There is only One God, who is revealed in three persons- Father, Son and Holy Spirit (the Trinity).
(2 Corinthians 13:13, John 10:30)
We Believe in God's Merciful Plan
All have sinned and need a savior.
(Romans 3:23)
Jesus Christ, our Savior, is the one mediator between God and humankind, and is the only way to the Father.
(John 14:6, Acts 4:12, 1 Timothy 2:5)
Jesus Christ dies for our sins and rose again to conquer sin and death.
(2 Corinthians 5:21, Romans 10:9, John 3:16)
Salvation is by grace through faith alone.
(Ephesians 2:8-10, Acts 26:20)
We Believe in God's Ultimate Purpose
Jesus Christ promised He will return to establish a new heaven and new earth. Jesus will return, bodily and visibly, to judge all and to receive his people to himself.
(John 14:1-3, Revelation 21:1a, Hebrews 9:27-28)
We believe in the resurrection of the body and the life everlasting.
(John 5:24, John 11:25, Isaiah 25:8)
We Believe in God's Word for Life
The Bible is God's Truth and the inspired Word of God, the only rule of faith and obedience.
(2 Timothy 3:15b-17)
We Believe in Our Faithful Response to God
All aspects of our lives are to be lived to the glory of God under the lordship of Jesus Christ.
(Philippians 2:9-11)
As Christ followers we are called to worship God both as a body of believers and continually as individuals.
(Hebrews 12:28, John 4:24)
We are called to fellowship with one another and minister to each other's needs.
(Acts 2:42)
Our loving God calls us to love all people and minister to their needs regardless of spiritual or social status.
(Luke 10:26-28)
Jesus Christ calls us to make disciples of all people.
(Matthew 28:19-20a)
The Holy Spirit is God's transforming power and presence at work in and through us, giving us the strength and wisdom to trust Christ and follow Him.
(Acts 1:8)
Living in Obedience
According to the Essential Tenets of ECO, the correct and faithful response to God is to live in obedience to his Word. Progress in holiness is an expected response of gratitude to the grace of God, which is initiated, sustained, and fulfilled by the sanctifying work of the Holy Spirit. As we practice the discipline of regular self-examination and confession, we are especially guided by the Ten Commandments. We therefore hold one another accountable to:
Worship God alone, living all of life to His glory, renouncing all idolatry and all inordinate loves that might lead us to trust in any other help
Worship God in humility, being reticent in either describing or picturing God, recognizing that right worship is best supported not by our own innovative practices but through the living preaching of the Word and the faithful administration of the Sacraments
Eliminate from both speech and thought any blasphemy, irreverence, or impurity
Observe the Sabbath as a day of worship and rest, being faithful in gathering with the people of God
Give honor toward those set in authority over us and practice mutual submission within the community of the church
Eradicate a spirit of anger, resentment, callousness, violence, or bitterness, and instead cultivate a spirit of gentleness, kindness, peace, and love; recognize and honor the image of God in every human being from conception to natural death
Maintain chastity in thought and deed, being faithful within the covenant of marriage between a man and a woman as established by God at the creation or embracing a celibate life as established by Jesus in the new covenant
Practice right stewardship of the goods we have been given, showing charity to those in need and offering generous support of the Church and its ministries
Pursue truth, even when such pursuit is costly, and defend truth when it is challenged, recognizing that truth is in order to goodness and that its preservation matters
Resist the pull of envy, greed, and acquisition, and instead cultivate a spirit of contentment with the gifts God has given us
In Jesus Christ we see the perfect expression of God's holy will for human beings offered to God in our place. His holy life must now become our holy life. In Christ, God's will is now written on our hearts, and we look forward to the day when we will be so confirmed in holiness that we will no longer be able to sin. As the pioneer and perfecter of our faith, Jesus leads us along the path of life toward that goal, bringing us into ever deeper intimacy with the Triune God, in whose presence is fullness of joy.